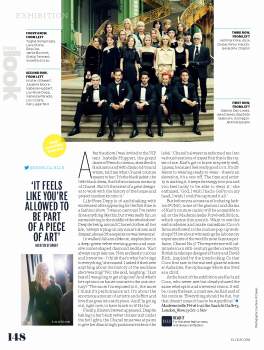 (Interviewed backstage at the Chanel Fall-Winter 2015/16 Haute Couture shows)
Transcription:
Finally, Kristen Stewart appeared. Despite baking in her black velvet trouser suit under the hot lights, the Chanel muse was at pains to give her disarmingly passionate take on the label.
"Chanel's always transformed me into various iterations of myself but this is the truest of me. Karl's got to know me pretty well, I guess, because I feel really good in it. It's different to wearing ready-to-wear - there's an elevation, it's a one-off. The time and artistry in making it, it seeps its energy into you and you feel lucky to be able to wear it,"
she enthused,
"God, I wish I had a GoPro on my head, I wish I could've captured it all."
Scan
via