Here's the cover art! Beautiful :)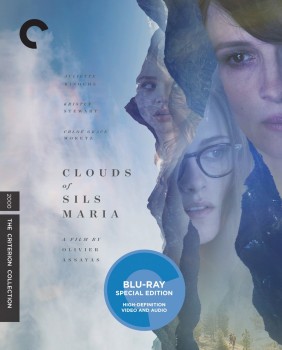 The 'Clouds of Sils Maria' Criterion DVD/Blu-ray will be out on June 28!
You can already pre-order them HERE or HERE



For the extras, the new ones are:
the interviews of Kristen (picture of Kristen being interviewed below), Olivier and Juliette and the essay by critic Molly Haskell. :)



---------------------

October 16, 2015
NEW picture of Kristen for 'Clouds of Sils Maria' Criterion blu-ray release official announcement


Criterioncollection: "In the clouds with Kristen Stewart."
IFC 'announced' it in July, and now we have the official announcement.. 'Clouds of Sils Maria' is getting a Criterion blu-ray release in the US!! The DVD has been released in July. I'll add the release date & pre-order link as soon as we have them. :)
Wikipedia
: "
The Criterion Collection
(or simply Criterion) is an American video-distribution company which specializes in licensing "important classic and contemporary films" and selling them to film aficionados. Criterion is noted for helping to standardize the letterbox format for widescreen films, bonus features, and special editions for home video."
Can not wait to see this special edition & to know if there will be more footage!
Via