Jesse Eisenberg
ComingSoon: You've been in the play on Broadway for a while and I just saw the trailer for "American Ultra" so it's fun to see you reuniting with Kristen after "Adventureland."
Jesse:
It's quite a different tone.
ComingSoon: Was it just a coincidence that you ended up doing another movie together?
Jesse:
Yeah, pretty coincidental, but we like each other. We work a similar way and have a similar sense of humor. She's like Jason in that way, too. We like different things that are maybe a little heightened but try to kind of play it maybe realistically, which we did in this movie. And "American Ultra" too. It's not comparable to this movie, but it's very heightened but our acting was real.
ComingSoon: Is it true you're doing another movie with Woody Allen?
Jesse:
Yeah that's in August.
ComingSoon: How much do you know about those movie before you do them? You've worked with him before so there's maybe less pressure.
Jesse:
Yeah, they gave me the script for one day so I got to read it. This is like three months ago or so, so I read it for the day and then you show up. A little bit less pressure, exactly. I know what I'm in for, yeah.
Collider: Just talk a lot about the physicality of the role. Because I think a lot of people aren't used to seeing you doing these stunts, killing people, and blood. And it's an interesting departure from what a lot of people see you in. So can you tell us a little about that.
Jesse:
So while that specific aspect might be a little different, there's a full movie and a full character that surrounds some of the more exciting action scenes. Kristen's character and my character are a very sweet couple, kind-of-like laid back stoners in the middle of the country, not realizing that they are apart of this government plot. And when they come to take me out, I have to defend myself. So all of the action in the movie is warranted and done in a really interesting way.
Collider: A lot of people on Twitter, and I mean a lot, really wanted to know about your collaboration with Kristen and what it's like for the two of you on set and what it's like to work together.
Jesse:
I think we have a similar sensibility and in our case I think it means we both prioritize the authenticity or emotional reality. And in those movies that we've done together so far, there's this added element of knowing it could be funny. And so if it's funny, then that's okay and we can allow it to happen but the priority is emotional authenticity.
Collider: Sometimes when I've spoken to actors one person likes to work a certain way and it's that sort of balancing the way you like to work with the way other people like to work. Do you guys have a similar work ethic in the terms of – you both like to do 3 to 5 takes, you both like to prepare a certain way…
Jesse:
I never really seemed to consider this. But no. She's her toughest critic and as am I. So in addition to making each other better by virtue of us working hard together, I think also we make each other feel a little more confident about what we are doing. Because I can tell when she's not feeling great about something and she can tell when I'm not feeling great about something. Or you know, when I stop eating if I get nervous.
Collider: Does that happen a lot?
Jesse:
Yes. When we did Adventureland I used to forget to eat out of anxiety and she would bring me food. So she's a real sweet women and I can tell when she's not feeling great about something insfor where the movie is concerned and then I try to make her feel good about it. Because she's good she's very talented in her skill set.
Collider: And as I said to you during the junket, your guys' chemistry in the movie is fantastic. It just is. I want to reemphasize that out because it's so good.
Jesse:
Oh that was so nice. That's very nice to say.
The Star Tribune:
Eisenberg calls Stewart "as good as it gets."
"She prioritizes authenticity to such a degree that when we were in 'Adventureland,' when she was 17, she would call 'Cut!' if she felt like she was lying. She also has a great sense of humor. Something few people can do well is to make a scene funny not by behaving in a funny way or being dramatic, but subtly, without missing the irony. She can reconcile those things, which is even more rare in someone as famous as she is."
Olivier Assayas
BlackBook: How did Kristen Stewart come into the picture? Considering you wrote the film around Juliette, did you initially have anyone in mind to play opposite her?
Olivier:
Not really. I didn't write with someone specific in mind. I just know that the moment I sat down and started imagining who could be Valentin, the name of Kristen instantly jumped from the page.
BlackBook: Was there a particular role of hers that caught your attention?
Olivier:
I liked her in every movie I've seen of her. Even in movie like The Runaways, I thought she was so amazing as Joan Jett. I was not so fond of the film, I think it could have a million times better, but the way she grasped that character and embodied it, it was believable. She had that punk rock energy, and few actresses can do that. I met her a couple of times in real life, thanks to my producer because he had produced On the Road and they became friends. That film was in festivals when Something in the Air was traveling around, so we bumped into each other a few times. I really liked her, and I liked her presence. She has a weird presence, but she has a kind of intensity, which is what translates best on screen.
BlackBook: She and Juliette have a simpatico relationship and fantastic energy between them. Was that something that grew instantly and organically or did you work with them to build that dynamic?
Olivier:
It just happened. I don't work with actors, I film them, but I don't work with them in the sense that I don't rehearse. I don't do reading and I don't give them comments on the psychology of the character or backstories. I'm just not interested in that, it bores me to death. I believe in spontaneity and recording in the documentary way of what happens when the actors say the lines for the first time. So you can say I film rehearsals, but another way of putting it is, that what you see in the film happens to be rehearsals, it's like the first time they say those words, and it's magical.
That's where I connected the most with Kristen. I'm less organically attached to Juliette's process. She needs to work and she needs rehearsal, but I did not give her rehearsal. She needs a coach, but I did not give her a coach. She kind of resents that still, but it's not my culture and I don't like it. If they want to rehearse in front of the mirror in the bathroom, I don't have a problem with it, I just don't want to know about it. I just want to know that whenever they are on set things will come out with a certain degree of spontaneity. So Kristen is the opposite of Juliette in that way—she learns her lines in the morning and thinks she's done after we've filmed one or two takes.
BlackBook: That's also evident in their characters and performances, as Juliette/Maria is so heightened and theatrical, whereas Kristen/Valentine provides a more mellow, naturalistic foil.
Olivier:
Exactly, and ultimately it's not really something you can predict. You don't know what is going to happen between two actresses in a scene. They could have disliked each other because they'd never met, so anything could have happened. Here we were extremely lucky that there was this instant bond between them and an instant connection.
Woody Allen
La Nacion: Your next film will be the first entirely with digital technology. How do you face such a change?
Woody:
I'm a dinosaur. I do not change easily. I think that I've used the same typewriter in a lifetime to write my scripts. But the director of photography of my new film, the Italian Vittorio Storaro, convinced me. The time has come, no sense resists, you can not go against the future, which actually is already present. While leaving the Moviola I accepted and edited with the computer, which allowed me to assemble a movie in just 6 or 7 days. I also realized that digital projection is very cute, almost like 35mm. But I never filmed in digital. In the next interview I tell you how was working with Jesse Eisenberg and Kristen Stewart.
Miley Cyrus
Bill Condon
Vanity Fair: Did any part of you feel vindicated by Kristen Stewart's recent César win? When actors or directors make a big franchise film like Twilight, people sometimes write them off as having sold out. Have you felt vindicated since the movie? Do you even need vindication?
Bill:
I'd been a fan of Kristen's before Breaking Dawn, and I loved working with her. She's incredibly smart and committed, she played such a range of emotions across a single film, from wedding jitters to death throes to vampire orgasm—I mean, if you can pull that off, you can do anything.
Nicholas Hoult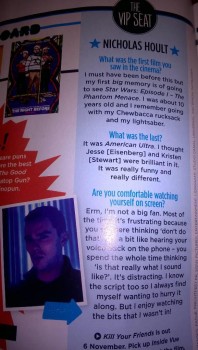 Transcript:
What was the last? (you saw in the cinema)
Nicholas:
It was 'American Ultra'. I thought Jesse [Eisenberg] and Kristen [Stewart] were brilliant in it. It was really funny and really different.
In
Inside Vue
's November 2015 issue
Flaunt:
"Then I did this [other] film actually—did you ever see Moon? So [Moon's co-writer] Nathan Parker wrote this sci-fi love story set in a Utopian future [with] myself and Kristen Stewart. And then it's directed by Drake Doremus. Have you ever seen Like Crazy?"
"Like Crazy and Breathe In are these two beautiful love stories that were directed by Drake. He manages to really draw things out and create an environment to work in that's intimate and personal, where you feel very safe, and you're willing to be vulnerable, so hopefully that film turns out well.
[Hoult says, after filming Equals, Stewart is "a real artist," inspiring, constantly playing music, just a cool person to be around].
The Herald:
He's already shot Equals, a thriller set in a world where emotions have been eradicated, which also stars Twilight's Kristen Stewart.
There was speculation that they might be more than just co-stars when the pair were spotted looking close and laughing together at the Venice Film Festival.
"I must've said something funny,"
Hoult offers, grinning. He describes the shoot as
"phenomenal"
.
"Kristen and Drake [Doremus, the director] are two of my favourite people I've worked with, really inspiring to be around and I'm proud of the film."
Metro UK: Is it true you and Kristen Stewart are an item after shooting the sci-fi love story Equals together?
Nicholas:
Classit innit? That's all anyone ever writer about. Everyone knows that stuff is made up. You read: 'A friend said..' and I'd love to know who this 'friend' was. I'm still a sucker for it myself, though. I'll be flicking through whatever it might be and go: 'Gasp - no way?' and then I'll think: 'Oh no, wait a minute, that's probably nonsense.' It can feel hurtful but it's all just a storm in a teacup.
Karl Lagerfeld
I asked him what was his ideal of the perfect woman today. He didn't hesitate. "Julianne Moore," he said. "Why?" "I don't know. I just think she's great. Her whole life; the way she is in life. And Jessica Chastain — she's great, too.
Of the younger generation, I love Kristen Stewart. She is gifted. She looks tough but in fact she's the nicest person in the world.
"
Tara Swennen
Transcript:
"The idea is to create the illusion of an hourglass figure by accentuating the waist. If you're not super-tall, go for a skinnier belt - the maximum width I would put on Kristen is about two inches. We also knot her T-shirts at the bottom to give definition. And V-necks achieve a leaner look while showing some décolletage."
In InStyle November 2015's issue
Cornell Alumni Magazine:
On a Tuesday in mid-August, movie star Kristen Stewart was in New York City promoting her latest project, an action-comedy called American Ultra. She was a guest on "LIVE with Kelly and Michael" in the morning, appeared on "The Tonight Show Starring Jimmy Fallon" at night, and flew back to Los Angeles at the end of the day. Her near-constant companion throughout that media whirlwind: Tara Swennen '01, her stylist for more than a decade.
Thirty-six-year-old Swennen has made a name for herself dressing an A-list roster of clients in her signature style, creating looks that are classic and elegant, but with a creative twist. In addition to Stewart—best known as Bella Swan from the Twilight movies—they include "Modern Family" star Julie Bowen, Kaley Cuoco of "The Big Bang Theory," and Emily Ratajkowski of Gone Girl and the "Blurred Lines" music video.
"It's been lovely working with Kristen through her younger, teenage years and watching her blossom into a woman,"
says Swennen, who notes that Stewart is now the face of high-profile fashion brands Balenciaga and Chanel.
"I've been able to have a lot of influence on her look, and we've done a lot of fun things together. It's a true collaboration."
For the New York outing, Swennen outfitted Stewart in a simple Thierry Mugler sheath on "LIVE" and a black Diane von Furstenberg romper on "Fallon." But she added her trademark visual appeal with unexpected color combinations—like the dress's mint and coral fabric—and edgy accessories such as the choker and strappy heels she paired with the romper.
Wyck Godfrey ('Twilight' saga producer)


THR: Do you keep in touch with the Twilight stars?
Wyck:
We keep in touch with all of them in the way you keep in touch with actors who have busy lives and are half your age. Every half-year we catch up and try to find something else to work on together. They've each been really smart about the way they've followed up their Twilight careers in that they've not jumped into big studio fare in general. They've chosen directors and movies based on the movie, not the size of the movie. Kristen being the first American actress to win a Cesar [France's Oscar, for Clouds of Sils Maria] was pretty f—ing cool.
Natalie Portman
"Young women like Jennifer Lawrence and Kristen Stewart – they're the stars now. I don't even know who the guys are who are their age."
From Marie Claire UK's September 2015 issue
Dove Cameron
On Kristen Stewart:
"I watched a video where she talked about a feeling she gets when she wants to play a character, like she'll feel guilty for letting down this person who has become so real in her mind if she doesn't play them. That's how I feel."
Connie Britton

The Today Show


Watch What Happens Live

@conniebritton talks about #KristenStewart #AmericanUltra on #WWHL @Andy pic.twitter.com/JILw4B7OGF

— Effortlessly Chic (@effortlessheart) August 14, 2015
Time Magazine: Kristen Stewart and Jesse Eisenberg, your costars in this movie, have been in the public eye from a very young age. You, by contrast, went to college and had a whole life before fame. What contrast do you see between your experience and theirs?
Connie:
In everything I've ever worked on, inevitably, I've ended up working with younger actors who are getting into their careers at a very young age. Jesse and Kristen are remarkable because not only did they get into their careers at a very young age but they also reached enormous success at a very young age—and very well-deserved success at a very young age. They're extraordinary to me; I kind of gawk at them because their talent is so well-honed, and to have that level of talent at such a young age and to be able to access it and parlay that into a career is something I will never be able to understand because that was not my experience. My experience has been a different one, and may be interesting to some, because some people always ask me, "You reached more success as you got older, and usually they say you can't do that as a woman, blah blah blah"—to me, it's really interesting to see young people be able to be so self-possessed in the ways they are.
Patti Smith
NY Magazine: What women have inspired you?
Patti:
I'm inspired just to see people do good work. America has such wonderful young actresses. Kristen Stewart, I like her very much.
Drake Doremus
"It's hard to yell 'cut!' when you're watching that (KStew and Hoult touching for the first time)" - Equals director Drake Doremus #TIFF15

— R. DOOMval @ NYC (@pirs) September 14, 2015
Julianne Moore
Aww Julianne Moore said she would give her second kidney to Kristen Stewart in a game played on Watch What Happens Live. So sweet.

— SWATH4Fans (@SWATH4Fans) October 5, 2015
"The Freeheld actress, 54, was put on the spot by host Andy Cohen, who joked that he was going to "pit some of her former costars against each other" as part of a "hypothetical situation."
Cohen then asked Moore: "Who would you give your second kidney to if they needed it?" listing the possible recipients as Stewart, 25, and Pattinson, 29.br>
Moore, meanwhile, has previously starred with both Twilight actors on separate films, including Moore's Oscar-wining turn in 2014's Still Alice with Stewart, and Maps to the Stars with Pattinson from the same year.
"I'm gonna go with Kristen,"
Moore replied on Sunday with a laugh.
Stephenie Meyer
At a Q&A in Forks for Twilight's 10th anniversary
"Kristen was always so great and natural"
(
via
)
THR: When did you start planning this?
Stephenie:
I think it was March. I knew the publisher wanted something for tenth anniversary. I didn't want to just write a letter and say, "Thanks." I talked to my sister, and my mom and a couple of friends, and kind of came around back to this idea. I'd always said "If Bella had been a boy, which would have been the exact same story, this isn't about, you know, her being a weak female, it's about her being a human being." I was talking to Josh Horowitz when I was at New York Comic Con. He told me that
Kristen Stewart did an interview
a while back and gave a great quote, "People wouldn't be asking these questions if I were a boy who'd done all the same choices. You'd be talking about what a brave thing it was for him to give it all up for love." And I thought that was so interesting — I wish I'd known about it, I would've put it on the back of the book.
Zoe Saldana
Holy moly! #americanultra is so good!

— Zoe Saldana (@zoesaldana) September 13, 2015
Marco Khan
News.am: In one of your latest movies, Camp X-Ray, you appear with the 'Twilight" star, Kristen Stewart. What can you say about her? How it was to work with Kristen?
Marco:
Kristen was a joy to work with. Such a professional! During the film I had to fight with her and SPIT on her face. Originally I couldn't do it and kept spitting on her uniform! But the story/ script said I had to spit on her face! She pulled me to the side after I told her and the director "I've never spat on anyone's face before not mentioning a young girl that could be my daughters age if I had one!" after she pulled me to aside and said , "It has to be done! I want you to do it!" After doing it right, I went to her and apologized and hugged her saying "I'm sorry!" Later at the wrap party she told me "Give me your address I want to send you a thank you package!" I would work with her anytime again.
Carey Mulligan
New York Times: Do you think the status for women in Hollywood is changing?
Carey:
This is a great year for women. It's nowhere near the number of roles that are available to men, but it does feel like a step in the right direction. Kristen Stewart or Jennifer Lawrence — people want to go and see these films with these really strong female characters at the helm, and you can't deem them chick flicks anymore. So the audiences will go, but the industry hasn't quite caught up yet. It's stuck in a more sexist time.
Max Landis ('American Ultra' screenwriter)


Thank you dude! I love those two, they were my dream cast, and fun to work with people my own age. https://t.co/eKsYQRNnzd

— Max Landis (@Uptomyknees) August 10, 2015
Two years ago, while waiting for the bus on this bench, I had an idea for a movie called @AmericanUltra pic.twitter.com/Du0x23rs4D

— Max Landis (@Uptomyknees) July 30, 2015
Grandtland: Max:
I was watching the scene [in America Ultra] where Jesse and Kristen have that conversation that then builds to them fighting in the car. I never could have shot that scene the way Nima did. It's so fucking good! And it's so visual without being arty. You feel so in there with them. I look at that and I think, This is stuff I wouldn't have thought of doing, so thank fucking Christ I had collaborators, because my version of the scene would have sucked. Once you've seen that happen once, once you see in Chronicle the way Josh [Trank] shot the spider scene, you realize there's another side to having your stuff fucked with that is good and important.
Ruby Rose at 0:48



Cory Michael Smith


intense! she was so good in CAMP X-RAY. loved working with her. #GothamAddictsQA https://t.co/0oMBbxk6CC

— cory michael smith (@mister_CMS) November 10, 2015
Grant Gustin
American Ultra is awesome. Such good performances and a really weird, dope concept. Loved it.

— Grant Gustin (@grantgust) November 12, 2015