The Spring/Summer 2016 Party issue of AnOther Magazine goes on sale internationally on February 18, 2016.

You can order on the official boutique or on Newsstand. :)

Scans

HQ digital scans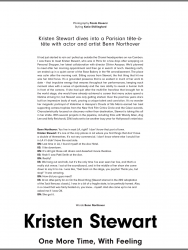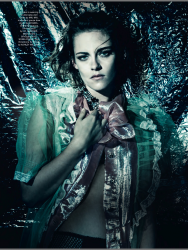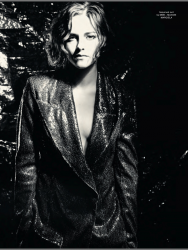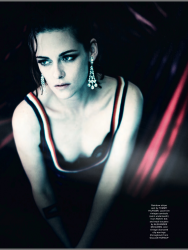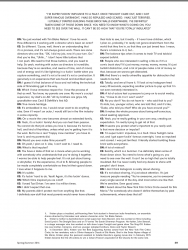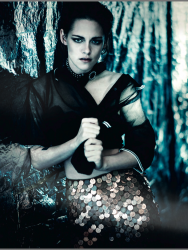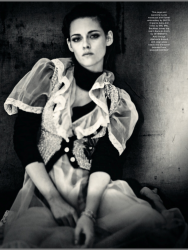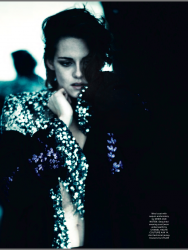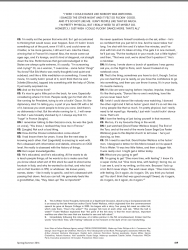 Outtakes

HQ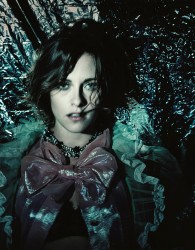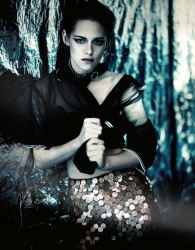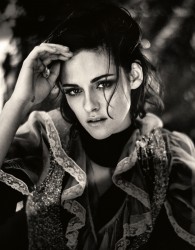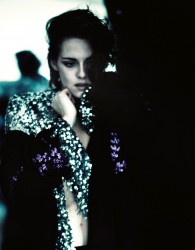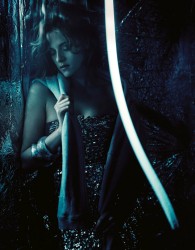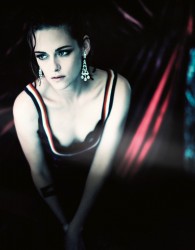 LQ

Transcript of Kristen's Interview
Kristen Stewart - One More Time, With Feeling
Kristen Stewart dives into a Parisian tête-à-tête with actor and artist Benn Northover
It had just started to rain as I pulled up outside the Chanel office on rue Cambon. I was there to meet Kristen Stewart, who was in Paris for a few days after wrapping on 'Personal Shopper', her latest collaboration with director Olivier Assayas. We'd planned to meet after her morning appointment and then go in search of lunch. Heading north, we ended up in a quiet corner of the Rose Bakery in the 9th arrondissement. The place was calm after the morning rush. Sitting across from Stewart, the first thing that hit me was her total focus. It's a grounded presence that is so evident in much of her work to date – that impulsive energy that weaves throughout her performances, keeping each moment alive with a sense of spontaneity and the rare ability to reveal a human truth in front of the camera. If she had quit after the multi-film franchise that brought her to the world stage, she would have already achieved a career that many actors spend a lifetime striving for; but Stewart was only getting started. Over the past few years she's built an impressive body of work, proving a unique talent and conviction. It's no wonder her magnetic portrayal of Valentine in Assayas's 'Clouds of Sils Maria' earned her best actress trophies from the New York Film Critics Circle and the César awards. Characteristically focused on discovery rather than destination, Stewart is taking this all in her stride. With several projects in the pipeline, including films with Woody Allen, Ang Lee and Kelly Reichardt, 2016 looks set to be another busy year for Hollywood's rebel star.
Benn Northover:
You live in east LA, right? I don't know that part of town.
Kristen Stewart:
It's one the only places in LA where you find things that don't have a double of themselves. It's not very commercial. I don't know where else I would live in LA if I didn't have the east side.
BN:
Last time in LA, I found myself at the Ace Hotel.
KS:
I like downtown.
BN:
It's still got those old diners and deserted movie theatres.
KS:
Yeah! I saw Patti Smith at the Ace.
BN:
Really?
KS:
We hang out and talk, but it's the only time I've seen her live, and that's a really sick venue. I sat at the soundboard, and in the middle of her show
she came down to say hi to me
. I was like, "Get back on stage, you psycho! Thank you, but stop!" It was amazing.
BN:
How did you guys meet?
KS:
At an after party for an 'On the Road' thing (Stewart starred in the 2012 adaptation of the Jack Kerouac classic). I was in a bit of a fragile state, to be perfectly honest. Also, in a crowd that was fairly fixated on, you know... myself. And she came up to me and asked me if I was OK.
BN:
She got it.
KS:
She just totally got it. I said, "Yeah, I'm OK." And she said, "No, I don't mean right now. Your people are here for you." And I was so disarmed by just, Patti Smith, walking up to me. And then afterwards, I was like, "Oh God, that was actually... a huge gift, man." And so we started talking since. She talks about the work all the time, and is always urging me to focus on that. "Work as saviour."
BN:
That's the thing with her; it's a discipline.
KS:
Yeah! She's so disciplined.
BN:
Do you have other mentor figures in your life?
KS:
Artistically, Patti's the biggest one
BN:
She really understands the creative process and how personal it is.
KS:
And she recognises when people are genuine, and it's a compulsion, and not something that they're "trying", I think she's like that for a lot of people. She's like, "Dude, c'mon, man. Keep up! Make something, impress me, do something, don't stop!"
BN:
I bought a copy of [Smith's second memoir] M Train, just before I got to the airport.
KS:
I have to read that; I haven't read that yet.
BN:
There's a passage near the beginning where she's describing a New Year's night. She's finished writing and started to watch Pasolini's The Gospel According to St Matthew. And she notices that "Pasolini's young Mary resembled to equally young Kristen Stewart!". And then she heads out to greet the New Year...
KS:
[Laughs] That's fuckin' cool...
BN:
You're immortalised in literature.
KS:
Wow, that's amazing! I didn't even know. Just Kids [Smith's first memoir] really got me going, 'cause, you know, I'm a mover and a shaker. I can't sit still, and at that time I was trying to figure out what I could do with that. Now I write a lot more, and we send each other stuff. And I'm painting.
BN:
Wow! What kind of work?
KS:
It's more about application, how it feels to put it on. I like words a lot. Like I really fuckin' love doing it. When you find the right word for something, for me, there is nothing more gratifying. I think that's why I like acting, because I like to be understood. I wanne feel something, and I wanna make sure you're with me and I've not minced one fuckin' emotion, I've not minced one word. I love that feeling. You know, I'm not a loner, at all. I want -
BN:
- to share -
KS:
Yes! So badly.
BN:
You seem to really embrace the process of discovery, as opposed to simple pursuing an end result.
KS:
I have to be about the process, because I'm not very finite. I'll always fuck up the big moment. Always. But my way to get somewhere else, it's always unexpected. And I love work like that, I love consuming art like that, where you know that it's kind of mucky, and a little manky, but you can feel what it took to get there. From A to B, what's inside that is so pregnant, and so full. Sometimes the things that you thought you wanted to feel, you're wrong, and it's something else.
BN:
Has you process as an actor changed a lot over the years?
KS:
My process had been validated more, but it hasn't changed. I've had a couple of experiences with a few directors and a few actors that were so fuckn' free, that I just don't question myself anymore if my process doesn't align with someone else's. I'm pretty good at picking and choosing people that I should work with, and I'm rarely wrong. I know when I meet someone if we're gonna jive and dance. And I do not want to construct anything with anyone. I wanna fuckin' dance. Like on this movie I just finished [Personal Shopper]. It's about this kid who's mourning the loss of her brother, living in Paris and obsessively trying to contact him. And so it's also a really terrifying ghost story, about loneliness and what you believe is reality. The movie killed me - literally - he had me running my fuckin' ass around Paris, 15 hours a day, six days a week. Like, just gunning, gunning, gunning, gunning. And so, right now, I'm so dead. I'm literally gonna get home and be about to fall apart, but I love it. Like, honestly, I don't know many people who feel this way, ever. I feel like I've pushed myself to such a fuckin' crazy degree that I've gotten to know what it is to be alive, more than most people allow themselves.
BN:
When you've totally given yourself to something.
KS:
Oh my God, when you're on set, and you know you've got 10 hours left, but you're actually shaking, and you might fall over but you never do. And you're somehow able to get to the end, every single time, and you're like, "How is this possible? I'm so much stronger than I give myself credit for."
BN:
You've got real curiosity in you. Does that feed into the research, or are you quite impulsive?
KS:
It's weird. I actually have this strange aversion to working too much before a project, and then I really kick myself for it. I really believe in timing, and I feel like if I start to get into something, or if I get an idea, and it's not the right moment, and it's not captured, then I'll die. I'll be so upset.
BN:
You're protecting the idea until it's ready to come out?
KS:
Yeah, I literally ignore it, until I have to stare at it. For parts that I've had to really research, I've been lucky. Like when I played Joan, she was there. And so she wouldn't let me fall.
BN:
Having Joan Jett with you on set, watching over your shoulder? Wow!
KS:
[Laughs] It was the only way I wouldn't feel like a total fraud... And again, she is a Patti for me, for sure.
BN:
You just worked with Tim Blake Nelson. I love his work. How different is it working with a director who's been an actor?
KS:
So different. 'Cause, well, there's an understanding that it's a process, and it's not always gonna work. There are some directors who are like, "OK, I did my job, now it's your turn. Go." And you're like, "Uhhh..." I don't have little buttons that I can push. We need to find those buttons, and you need to help. So yeah, working with actors as directors is incredible, because they're so sensitive, and aware of time, and of mood, and of energy and it's like lightning in a fuckin' bottle when you capture something and it's not a lie and it's not a construction. It genuinely is an experience that was found and stumbled upon.
BN:
I guess it's that balance of focus and not letting the technical side of filmmaking get in the way.
KS:
Which I have immense respect for. I love the process of that as well. You know, my parents are crew. My mom's a script supervisor, my dad's an AD. All my brothers are grips. My grandfather was Cecil B DeMille's first AD.
BN:
True movie heritage.
KS:
It's embedded in me, I would never want to do anything else. Even if I wasn't an actor, I would still be in the film industry in some capacity.
BN:
On a movie the crew becomes almost an extended family.
KS:
Yeah, it's a fuckin' family! And you can feel their passion. You cannot do that job unless you love it, because it's hard as hell, and kind of thankless, unless what you're getting from it is the work. But to be a real 'happy crew member' you have to love it, and my parents did.
BN:
Would you ever make films yourself?
KS:
Oh yeah, I plan on it. Like, I can't wait to. I need to.
BN:
What is that impulse?
KS:
You have a taste of that on a movie when you're working with somebody who understands that you're doing it together. I wanna be able to help people feel. It's not just about being a storytelle, it's the experience, it's A to B. Allowing people to be made completely comfortable so they let their guard down. I love when it happens to me.
BN:
It's subtile.
KS:
It's fuckin' hard to do. Yeah! Again, it's this fuckin' dance.
BN:
Which films inspired you as a kid?
KS:
I loved Taxi Driver, I've seen it a million times.
BN:
I didn't expect that one.
KS:
My parents didn't protect me from anything like that. I definitely saw stuff that most parents would never have allowed their kid to see, but it really - if I ever have children, which I plan on, probably, I'm really not gonna shield them from the world that they live in, so that they can just breed fear. I mean, there's a balance to it, but...
BN:
The balance tips when it comes to trash TV and tabloid exposé bullshit.
KS:
People who are interested in selling a life as if it's a comic book story? It's just money, money, money, money. It's just bullshit distraction, and a lot of poeple make a lot of money on that, because we wanna get distracted.
BN:
And there's a really unhealthy appetite for distraction that needs to be fed.
KS:
Totally, and we all have it. I'll look at my Instagram feed every 30 seconds, expecting another picture to pop up that I'm not even remotely interested in.
BN:
A lot of actors feel a pressure to jump on to social media, like, "I have to do it or I won't work!"
KS:
No you don't! You do not have to - who said that to you? It's kids, too, younger actors, who are told that, and it's like, "Dude, who told you that? Who do you have around you?"
BN:
It makes the whole process about being self-conscious, about seeking approval.
KS:
Yeah, you're really getting in your own way, creating an expectation. I'm really trying to get rid of that.
BN:
It seems you protect what's important to you really well. Is that more decision or impulse?
KS:
I'm super fuckin' impulsive, to a fault. Once 'Twilight' came out, and I got super fuckin' famour overnight, I was so repulsed and scared. I was just terrified. I literally started building these brick walls everywhere.
BN:
A lot of mistrust?
KS:
Exactly, which is a bummer. I've definitely taken some of those down since. You need to know what's going on, you need to see over the wall. It can't be so high that you're totally insulated. But I've never really had any desire to share with people I don't know.
BN:
I don't think Instagram is really about sharing.
KS:
It's not about sharing, it's just about attention. It's just insecure people needing "You're awesome, you're awesome" every single second of the day. And most actors are like that. We're sensitive. Even good ones.
BN:
I heard about the New York Film Critics Circle award for 'Sils Maria'. For somebody who doesn't define themselves by past achievements, where does that sit?
KS:
I'm really not the person that wins shit. So I got accustomed to thinking that would never, ever happen. Even if I fuckin' knock something out of the park, even if I kill it, and could never do it better, or be more genuine, I still won't win. Like the César, winning that in France! It's insane! Also, the movie came out ages ago, and it's foreign, and it's kind of diagonal, not straight down the line. Performances that get acknowledged in the States are always quite extreme, it's usually, "I'm screaming and crying!" Or, as a woman, "I overcame... same fuckin' thing!" You know? But 'Sils Maria' was really thoughtful and quiet and subdued, and like a little meditation on something. I loved the movie, I'm really fuckin' proud of it, and I think that me and Juliette [Binoche], tapped into something with the help of Olivier. It just really surprised me.
BN:
And on the home front?
KS:
It's nice to get a little pat on the back, for sure. Especially considering where I'm from. People really gun for that shit. It's like running for President, trying to win a fuckin' Oscar. It's like diplomacy. And I'm telling you, a part of you feels OK with a bit of it, because you want people to know you care. And there's no dishonesty in that. But the whole running for it... I will never do that. I was honestly shocked by it. I always say that I'm "huge" in France [laughs].
BN:
I remember talking to Ben Gazzara once, he was like [puts on voice], "You know, I realised they love me in France."
KS:
[Laughs] Not such a bad thing.
BN:
How did the Chanel collaboration come about?
KS:
I had know them for years. It was like the next step in knowing each other. Karl [Lagerfeld] is amazing to work with. He's obsessed with information and details, almost to an OCD level. He really is obsessed with the history of things.
BN:
He's super knowledgeable.
KS:
He's educated, and he's educating. All he wants to do is teach people things; all he wants to do is make sure that you know about what sort of film stock he used to shoot some fountain in Italy, and why he wanted to do that, and who had sat on that fountain in 191., or whatever. He knows years, names, dates - like it really is specific, and he's obsessed with passing that down. And you can tell. He genuinely feels like a grandfather, like, "Hey, listen up! This is important!" He never questions himself creatively on the set, either - he's so confident that you just fall in line. And he never takes 'too' long. I've shot with him and it's taked five minutes, and I've shot with him and it's taken all day. If he gets it in one moment, he'll just say, "Put the toothpick in your mouth, but a little higher," and then, "That was cool, we're done! Don't question it." He's a risk-taker.
BN:
It's funny, I wrote down a buch of question I was going to ask you, on the flight to Paris, and I haven't looked at my notebook once.
KS:
That's the thing; sometimes you have to do it, though. Just so you can feel that you're ready, so you have the confidence to go into something, and then you can throw it away. It's in your body, it's muscle memory.
BN:
It's like we were saying before: impulse, impulse, impulse. It's like that quote, "Dance like no one's watching, love like you've never been hurt."
KS:
I wish I could dance like nobody was watching. I danced the other night and it felt so fuckin' good. And it's so not like me. I envy people like that so much. I'm pretty physical, but I really need to let myself go. Honestly, I just wish I could fuckin' dance more. That's all.
BN:
I love the feeling of just losing yourself in the moment.
KS:
Me too, it's my favourite thing in the world.
BN:
I just watched [David Foster Wallace biopic] The End of the Tour, and at the end of the movie Jason Segel [as Foster Wallace] goes to this Baptist church to let loose - he's just dancing, so free.
KS:
Oh I need to see that. David Foster Wallace is the fuckin' man. I designed a tatoo for 'Sils Maria' based on his speech 'This Is Water'. It was two little fishes, and then a bigger fish. It was really cool.
I might get a tattoo today
.
BN:
What are you going to get?
KS:
I'm going to get "One more time, with feeling". I know it's a super cliché, but "One more time, with feeling", facing me, so I can see it, and in my writing, on this vein. Because I fuck up a lot. But it never stops. The work never stops. "One more time, with feeling. Do it again, do it again. Oh, you think you fucked up? You don't think that was good enough? Sweet, do it again, do it again, do it again, do it again."
Hair Shon at Julian Watson Agency using L'ORÉAL PROFESSIONNEL; Make-up Peter Philips at Art + Commerce; Set design Jean-Hugues de Châtillon; Manicure Hiro Takabayashi at Jed Root; Photographic assistants Mélanie Rey, Arthur Ancelot, Barbara Marangon; Digital tech Antonio Pizzichino; Styling assistants Jayme Miller, Samia Giobellina, Adonis Kentros; Hair assistant Ryuta Saiga. Make-up assistant Estelle Jaillet; Production PRODn Paris; Executive production Jill Caytan; Production Miren Lasa
•
AnOther Magazine
: "Parties and magazines have always gone hand in hand, and never more so than in the history of AnOther Magazine," Jefferson Hack writes in the editor's letter which opens the issue. "There have been costume-ball parties, private house parties, parties in libraries, after-hours parties, contemporary art parties, rooftop parties, regal garden parties, private boat parties, parties at off-grid locations, modern dance parties and even movie premiere parties."
It makes perfect sense, therefore, that the 15th anniversary issue of AnOther Magazine takes the form of a party – a raucous but intimate, exuberant but reflective celebration of the most provocative and captivating people, ideas and attitudes of the moment. And to lead the proceedings, our four unique cover stars act as dream party hosts – each of whom defines the AnOther woman. Meet our hosts here.
Actress Kristen Stewart's rebellious energy is given a romantic twist in photographs by Paolo Roversi, styled by AnOther Magazine's Fashion Director Katie Shillingford. Accompanying the shoot is a Parisian tête-à-tête with actor and artist Benn Northover, in which the pair consider the strength of focus and subversive spirit which have landed Stewart supporting actress trophies from the New York Film Critic's Circle and the César awards.
Digital scans thanks to
@Korita05
:)