*SPOILER ALERT*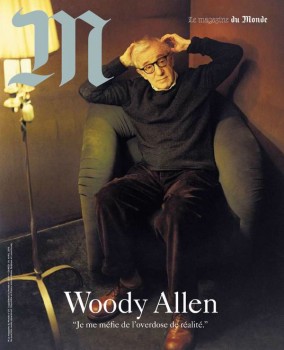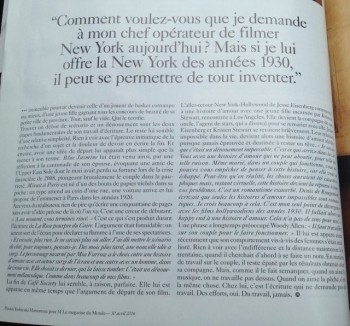 Woody Allen covers this week's issue of M Magazine!
In the picture above of one of the pages (thanks to @AdoringKS), he talks about his processus of creation and mentions 'Café Society'.
I was going to just translate the part where he mentions the movie, but the whole page was just too good for you to miss it so here's a full translation. :)

Translation
Find a start for a script and a conclusion are the two fundamental stages of his writing. The remaining feels like a relative simplicity to him. Nothing to do with the initiation rite of searching a topic and the pain of having to write the end. And yet, having a first idea feels easier to him than leading it to an end. 'Blue Jasmine' came to him like this as well, with a reflection to no one in particular from his wife, about a friend of the Upper East Side whose husband had lost his fortune during the financial crisis of 2008, brutally plunging the couple into poverty. 'Midnight in Paris' is born from a scraps of paper tucked in his pocket: a guy waiting at a street corner, a car arrives and offers to take him to Paris in the 1920s. In the eyes of the director, there's nothing worse than writing fifty pages without having a clear idea of where you're going. It's a rookie mistake.
"At one point, you end up knocked out."
It's what happened during the writing of The Purple Rose of Cairo.
The starting point was excellent: an actor coming out of the screen to declare his love to one of his spectators.
"And then, nothing. I did not know where to go. I had to put the script aside, forever, I thought. Months later, a new idea came up. The character played by Mia Farrow has the choice between a love story with this actor popping out of the screen and another with a man, in real life. She chooses the latter, who left her. It was a melancholic conclusion. As in many of my movies."
The end of Café Society seems to him, and rightly, perfect. It came to him at the same time as the starting point of his film. Jesse Eisenberg's New York-Hollywood round trip is a love story with a young girl embodied by Kristen Stewart, met in Los Angeles. She became the partner of his uncle, celebrity agent, who divorced to marry her. Jesse Eisenberg and Kristen Stewart met briefly again. Their impossible relationship in life, becomes then a perfect love story since never experienced and destined to remain a dream.
"I knew it was a perfect conclusion. This is what happens in life. You have a love story that can't succeed, for whatever reason. Even married, in a working relationship, you can not help but think of this story, because it has escaped you. Maybe in reality, things would have been catastrophic but, remaining virtual, this story is the answer to all your problems. It's an exacerbated romanticism. Denis de Rougemont wrote that only impossible love stories are romantic. I strongly believe in that. That's my only point of divergence with Hollywood movies of the '30s. They needed then a happy ending to a love story. It makes no sense to me."
A sentence has long preoccupied Woody Allen: "You have to work on your couple to make it work." He realized recently that his behavior towards women had improved. Nothing to do with indifference and distance maintained back in his thirties, when he sought first to make a name for himself. About working on your couple, he remains amazed by the results obtained with his wife. But, as he points out, when you love music, you don't work on it. When you love fishing, it's the same thing. With him, it's writing that requires no work. Efforts, yes. Work, never.